If you like photo link parties, we've got a great one to share with you.  It's the weekly Perspectives Photo Challenge at Agape Love Designs.  This photo link up allows you to share YOUR perspective on the world through your photos….just another way of people getting to know you.  We love that!  Keep reading to find out more about this fabulous blog and link party.
Hello Linky Here fans!
I'm Maria-Isabel and I blog over at Agape Love Designs!
Today I wanted to tell you about a fabulous linky party I Co-Host with two other amazing Photographers!
That blonde right there in the first photo is Lena of Lena B Photography, all the way to the end is Natalie of When Shutters Click! Thats me in the middle there.
Together we host a WEEKLY Photo Challenge Link-Up called Perspectives!
The idea behind Perspectives is simple;
We want to see YOUR perspective, we want to see how YOU see the world!
So each week, we have a theme to share with you, like Love, Nature, Black & White, & Faceless Portraits.
Then we ask for you to take and share 3 photos of that theme in YOUR perspective!
And each host does the same, to share with you OUR perspective.
You do NOT need to be a pro photographer to be able to link up!
Heck, you can link up your flicker account, or even your instagram photos!
We dont care, we just want to see you link up, and share a little bit about yourself through your eyes/lens.
Because this IS a photo challenge, as the hosts' we do try our best to challenge ourselves with our photography. And through our own posts, we share with you. But this is also for fun.
We have fun and we want you to have fun!
Each week, we also each pick one photo from someone who has linked up (and followed the rules)
to be featured with our post. As a shout out and thank you for participating!
So, if you LOVE photography, are just getting started, need some practice.. Whatever!
We would LOVE to encourage you to come on by and link up with us!
Perspectives is still very new, only going on a little over 2 months now,
so we would definitely love to have a lot more photo fans and shutter bugs join in. ♥
The Perspectives Link Up happens EVERY Friday!
(or Thursday at 9pm if youre on MY time pst)
SO, grab a button and dont forget to link up!
A new theme for the week & the next week is always announced in post!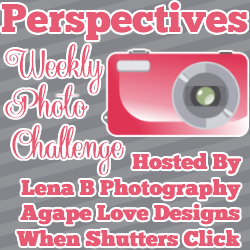 Much Love & Hugs,
Sounds fun, right?  So get your photos ready because this week's link up starts SOON!  If you want to see some pictures from last week's party, click here.  While you're there, you can leave a comment for Maria-Isabel and find out what the theme is for this week's Perspectives Photo Challenge.  Have fun!
Stay awhile & check out some other posts...